BIO Skin Cream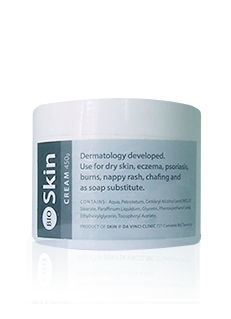 BIO Skin Cream 400g

Our very own moisturiser, specifically formulated and manufactured with dry skins in mind. Its light formulation makes it perfect for an all over body cream, in particular for those with eczema/dermatitis and psoriasis.

BIO Skin has been carefully manufactured to remove known products detrimental to moisturisation such as sodium laureth sulphate and parabens, and contains limited preservatives and fragrances to avoid inducement of contact dermatitis.

BIO Skin should be recommended as a general purpose emollient and soap substitute. It is particularly useful in dry skin (asteatosis or ichthyosis), eczema/dermatitis and psoriasis.

BIO Skin is specifically indicated for use over Aqueous cream when there is a history of preservative contact allergy including to Chlorocresol. BIO Skin has increased aqua and liquid paraffin to create a lighter formulation which is more readily applied to large surface areas.
   GE Free : None of our BIO Skin products are created from GE plants or vegetables.

   Cruelty Free : Rest assured that none of our BIO Skin products are tested on animals.

   100% New Zealand Made : BIO Skin is designed, developed and manufactured in New Zealand.

Natural Products for Your Skin

 
Other products you might be interested in