Which Overdenture Attachment System?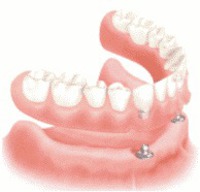 Implant-supported overdentures (IODs) have become the new standard in the treatment of edentulous patients. The advantages of IODs over the conventional complete and partial removable dentures are well documented and include decreased bone resorption, reduced movement of the prosthesis and improved occlusion and aesthetics.[1] Along with these advantages, patient satisfaction has also increased significantly with the use of IODs.[2]
The increase in IODs, has caused an increase in different IOD attachment systems, each claiming advantages over the others. These differences can allow for selection based on clinical or patient situation. There are numerous clinical and in vitro studies exploring these claims and below you will find a summary of some of these studies, with the pros and cons of some of the IOD attachment systems.
Advantages

Disadvantages

Bar-Retained

Overcome issues of misaligned or improperly placed implants

Increased treatment cost and time for fabrication
Can not be easily replaced in case of failure

Ball & Socket

Higher initial retention compared to other systems[3]
Cost effective
Easy to clean
Replacement components identical so easy to replace in case of failure
Less prosthodontic maintenance required when using Southern Implants™ Overdentures[4]
Good results in marginal bone level over 10 years regardless of loading protocol[5]

Locator

Requires more post-insertion care to increase retention[10]
---